If you're looking for a new or used Walkin Wheels pet wheelchair, you might want to give me a shout.
I stock pet wheelchairs for senior and handicapped dogs, whether your pet needs a wheelchair because it's getting older and can't move very well, or just had a surgery and now needs a bit of help getting around – I can help you out.
We understand the urgency when your pet is in need so I have available all the sizes from the Walkin Wheels Small for small dogs like Dachshunds all the way up to the larger breeds to about 150lbs like a Great Dane.
We quite often find that some of our customers consider building a dog cart to get wheels for their dog but after they weigh materials and the quality of a home made dog cart, they are then blown away at the quality and adjustablity of the Walkin Wheels which makes their decision an easy one as same day shipping in most cases allows them to see their old companion running around in no time.
If you're dog is in need of a Walkin Wheels, don't forget to check with your pet insurance company to see if the cost of medical devices are covered.
If your pet just had a surgery, it may not need the wheelchair for a very long time at all. That's why I offer pet owners a chance to rent one out rather than buy it.
If this is you, give me a call at 778-809-7421 or send me an email and I'll see if I have the right size for your pet in stock. You can get more details about this on my rentals page
Used Pet Wheelchairs
Every once in a while I'll get a pet wheelchair back from the owner whose pooch recovered from the surgery, and you may be able to save money by buying used one.
Of course, these tend to go fast when I get them, so you definitely need to call for those (see the number at the bottom of the page)
Walkin' Wheels
Give you disabled dog or senior pooch the gift of mobility with a pet wheelchair. As our faithful dogs age they face many health issues, disabilities and injuries but that doesn't mean their life cannot be filled with happiness and adventure. Every pet deserves a second chance to enjoy life by giving them the gift of mobility which can be a significant life changer for you and your four legged furry member of your family.
A wheelchair can enable your dog to run and play again, get the exercise he (or she) needs, and live a happy, healthy life.
Designed to help animals with hip and leg problems including degenerative myelopathy (DM), hip dysplasia, arthritis, paralysis, slipped disc, soreness, spinal and neurological problems, surgical recovery, and more.
A Walkin' Wheels dog wheelchair can be shipped same day, requires only approximate measurements, folds flat, it is easily to assembled and is adjustable, without tools, to fit your dog, or any other dog. In some cases, such as for animals over 100 lbs, some customization may be required.
Click Here for Walkin Wheels Pictures and Media
Features of Walkin' Wheels & Walkin' Wheels Mini
Call today, available the same day; overnight shipping available
Minimal measurements required.
Will fit any size dog 5 lbs and up.

"NEW"

Walkin Wheels mini for dogs under 20 lbs
No Lifting of your dog required
Adjusts easily, without tools, if your dog grows or his/her health changes.
Easy to re-sell because it can be adjusted and used on any other dog.
Only 1 measurement required, No precise measurements needed.
Folds flat for easy transport. Fits in Free Tote Bag, included.
1 Year Warranty
High Grade, extruded aluminum frame is virtually indestructible
Veterinarian Approved
Rear slings included to lift legs off ground if required
How To Order
Measuring and ordering your walkin wheels is drop-dead easy. All you need is one measurement to determine the basic size of your pet's wheelchair. There is no waiting, and the wheelchair is 100% adjustable as your dog grows and changes.
Groin to Ground Measurement of a Dog for a Wheelchair
To measure the height of a dog for a Wheelchair, measure from the ground to the "Fold of the Flank" as shown here. (The skin material that joins the rear leg to the abdomen).
The measurement does not need to be 100% exact because the cart is adjustable, however, if your measurement is wrong or taken from the wrong point, you may need to exchange the wheels.
You want to do the measurement from the side of the dog, not underneath. In the picture of the live dog, the finger is pointing to the flank skin that joins the rear leg to the abdomen. This is where you take the measurement from.
Once you have your measurement simply choose appropriate cart size below listed from A – G and click Buy Now to go to the online store and select the corresponding letter in the store and complete your purchase.
Give Us a call if your not sure what to order online and we will help you over the phone
Call Us to Place an Order 778-809-7421
Or Order Online
A =Between 8″ and 11″, you will get 6″ Strut with 4″ wheels (up to 65 lbs)

$499.00
B =Between 12″ and 15 ", you will get 9″ Strut with 8" wheels (up to 65 lbs)

$499.00
BB =Between 9″ and 12 ", you will get 6″ Strut with 8" wheels (up to 65 lbs)

$499.00
C =Between 15″ and 18″, you will get 12" Strut with 8″ wheels (up to 65 lbs)

$499.00
(Over 65 lbs)
D =Between 14″ and 17″, you will get 9″ Strut with 12″ wheels (over 65lbs)

$549.00
E =Between 17″ and 20″, you will get 12″ Strut with 12″ wheels (over 65 lbs)

$549.00
F =Between 19″ and 22 ", you will get 12″ Strut with 16" wheels (over 100 lbs)

$589.00
G =Between 22″ and 25 ", you will get 15″ Strut with 16" wheels (over 100 lbs)

$589.00
H =Between 26″ and 29 ", you will get 18″ Strut with 16" wheels (over 100 lbs)

   $589.00
Inflatable Pneumatic Tyres
For active dogs, "Mountain-bike Style" Pneumatic (Air Filled) Tires are available as an option for Over 65 LBS Carts. These tyres are a little quieter on pavement and gravel and the pressure can be adjusted to absorb some of the bumps along the trails. (Selectable in the Checkout area.)
The Walkin' Ski Attachment for the Walkin' Wheels dog wheelchair can be easily interchanged with the standard wheels and struts to provide traction in the snow.  Whether your dog prefers groomed trails, deep powder, or challenging glades, the Walkin' Ski Attachment will help him or her get first tracks in any winter conditions.
Combining the Walkin' Wheels Dog Boots with the clip on stirrups allows your pet to use their back legs but keep them off the ground when needed. The boots will protect the paws and the elastic clips that attach to the boots can be adjusted for height.
Walkin' Wheels Small for pets under 25 lbs, this cart has all the great adjustable functions as its bigger brother and 1 size adjusts to fit all pets under 25 lbs

   $299.00
Testomonial
Thank you so much for the wheelchair Andrew! We hooked tazer up today. He immediately walked with it – pulled it around the grass. He went to the gate to go for a walk in it like he knew what it was for, so i grabbed the leash and away we went!.. he rolled it down the small incline driveway and onto the street – pulled it across the street and off road onto the grass and leaves, and wanted to go to the park.! At the same time, his tail was wagging and he was barking an excited loud bark as he does when he is happy!! he never shut up!! We wandered up and down the street and he didn't want to come home. But we didn't want to over do it! Before the wheelchair, he was lying on the couch looking out the window, for three months! Now he will be able to get out and get some fresh air and live again! So the wheelchair has brought life back into our house not only for him but for us!! yeah!! He is a big strong dog and i am glad i got the longer taller size, as under 17 would've probably been too short for him. Many many thanks!!! Sue Sue Nakusp BC Canada
Click Here to Contact Us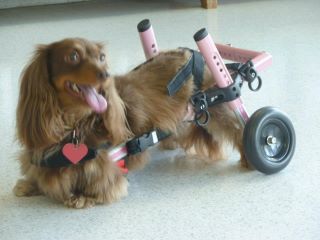 Andrew Phillips
, Owner Handicapped Pets Canada Pet Access Solutions
778-809-7421